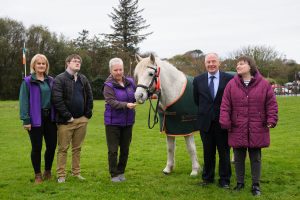 Connemara Therapeutic Riding CLG welcomes the announcement by the Minister for Rural and Community Development, Michael Ring TD that it is to be granted funding under the Community Services Program. Minister Ring announced the news on Friday 25th October during his visit to Forum Connemara in Letterfrack, Co. Galway and said he was "delighted to be able to support the wonderful work being carried out by Connemara Therapeutic Riding" while also speaking of the importance of having services and a community to support people especially those in a rural area. Clients and volunteers from Connemara Therapeutic Riding were in Letterfrack along with a Therapeutic Riding Connemara pony to welcome Minister Ring.
The Community Services Programme (CSP) supports community companies and co-operatives to deliver local social, economic and environmental services that tackle disadvantage by providing a co-funding contribution towards the cost of employing a manager and full-time equivalent (FTE) positions.
Connemara Therapeutic Riding (CTR) was formed as a CLG in 2017 after operating successfully since 2015 as a voluntary community group. CTR provides a community-based Therapeutic Riding service for adults and children with physical, sensory and intellectual disabilities while promoting the Connemara pony as an ideal equine. Therapeutic Riding is a worldwide recognised therapy to improve physical, emotional, social, cognitive, behavioural and educational skills as well as being a healthy and fun activity. To date over seventy people have availed of the service. The service is delivered at Errislannan Manor, Clifden, Co. Galway with fully qualified Therapeutic Riding coaches using specially trained Connemara ponies. Minister Ring's announcement will enable CTR to employ a full-time manager and three full-time equivalents providing a welcome boost to the local economy. Cathy Keane, Chairperson of CTR says "the Community Services Programme will enable CTR to grow it's social enterprise and enhance the service it is providing to current clients as well as attracting new clients. This much needed funding will give also CTR the opportunity to develop a tourism offering". CTR plans, with the aid of CSP funding to promote Connemara as an accessible tourism destination and to develop links with other tourism service providers in the area.
Since its formation Connemara Therapeutic Riding has worked closely with local organisations such as Forum Connemara, the Connemara Pony Breeders' Society, businesses and strategic partners, and also local schools and daycare centres.  Support has also been given to participants from Ability Connemara. The Ability programme provides funding to local, regional and national projects in the Republic of Ireland that focus on bringing young people with disabilities between the ages of 15 and 29 closer to the labour market.
CTR is committed to supporting the objectives of the Community Services Programme and looks forward to embracing the next part of it's journey.
For more information on Connemara Therapeutic Riding please visit www.connemaratherapeuticriding.com .